A UNIQUE SERVICE
Yellow Submarine S.A. has built a semi-submersible vessel with leading technology for underwater whale watching.
Southern Spirit S.A., the licensed dealer of the watching services, has constructed the vessel and is in charge of the operation and management.
The service of submarine whale watching is unique in the world.
CUSTOMER SERVICE
Office in Puerto Madryn: Avenida Roca 59, local 2.
Tel: (0280) 15 457-2551
Our office is located in Puerto Pirámides, some 100 km from the city of Puerto Madryn.
Address:
Av. de las Ballenas and Primera bajada al mar [first road to the sea].
+54 28 0449 5094 / +54 928 0457 2340
Our office is open from:
1st June up to 31st August every day, from 9:00 till 18:00.
1st September up to 31st December every day, from 9:00 till 20:00.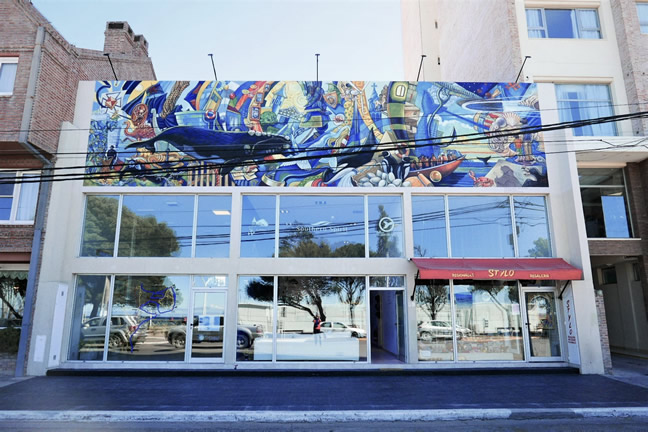 HOW TO GET THERE
By plane
The nearest airports are the El Tehuelche Airport located in Puerto Madryn and the Alte. Zar Airport located in Trelew, being operated by Andes Líneas Aéreas and Aerolíneas Argentinas, respectively.
By Bus
A wide range of bus companies communicate Puerto Madryn with the rest of the country. At the central bus station in Puerto Madryn, there is a regular timetable daily transport service to Puerto Pirámides offered by the company 'Mar y Valle' throughout the year. The contact phone is +54 28 0445 0600.
By Car
North of Puerto Madryn, drive along National Route No. 3 or Provincial Route No. 1, head toward east and take the Provincial Route No. 2. The total distance from Puerto Madryn up to our office is 100 km on a paved road. Please, drive with precaution as it is frequent to see loose animals near the road such as guanacos, Patagonian maras and sheep, among others.
Puerto Pirámides is located within the Península Valdés Protected Natural Area. In order to enter that area, visitors must pay an entrance fee at the control station named 'El Desempeño', located at Provincial Route No. 2.